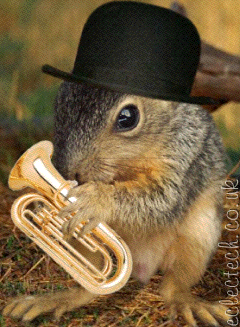 Chuffed Squirrel ...
As wet as the weather is now, you might not believe that the Muddy Basin Ramblers are planning to keep busy over the next month performing at outdoor music festivals. To get the season started, we turned a rain-cancelled hiking trip into an excuse to get together in the Hsintian hinterlands and do some improvisational jamming.
Probably we had all thought it would have been more like a Muddy Basin practice, but it turned into an evening more similar to the Big Drum sessions of old. We were on the porch, just winding the weekend down to its natural conclusion, passing the instruments around.
"Open the Gate!" Mother was licking the floor, a
squirrel
(NSFW) was hanging upside-down rocking to the brass, and the neighboring dog was answering the trombone. On the bed, under the canopy, the doctor inserted needles, but no water flowed. Just the rain, always the rain.
The smell of travel was in the air. Fingers was in town, on his way from South Central to South China. And Dave was packed and ready to roll off to the
DobroFest
in
Trnava
, Slovakia.
Trnava's bluesiest booster, Bonzo, annually hosts a global gathering of guitar gypsies who celebrate the music of resonant guitars in the hometown of John Dopyera, the "Do" behind Dobro.
We met
Bonzo
when we shared the bill with him at the first BSOT Blues Bash in Taichung last spring. A few days later, we attended his show at the LR (hearing the same jokes) and then joined him on stage for a set, climaxing in a stirring rendition of G-L-O-R-I-A in front of a mystified audience.
That was then, and this is now. And right now, this very minute, the world's best resonant guitar players, Dave included, are making their way toward a small town in Slovakia. Dave will perform from 12:50 to 1:20 P.M. on Saturday, June 3, on the main stage at the Museum's Garden in Trnava.
... Fancy Goat

You have to seriously love the Blues to travel halfway around the world to perform for half an hour. According to the notes for the 2005 DobroFest, the informal jamming lasts late into the evening, so I don't imagine those thirty minutes will be the extent of the guitar slinging for ol' Dave.
Dave might even drop us a post if he's able to leave the music long enough to spend a few minutes in a cyber café.
Keep the weekend of June 9-11 free.
Hoping for Hoping
is just around the corner. We're on Saturday in the late afternoon.